Sanitary Products Christmas Tag
$

65.00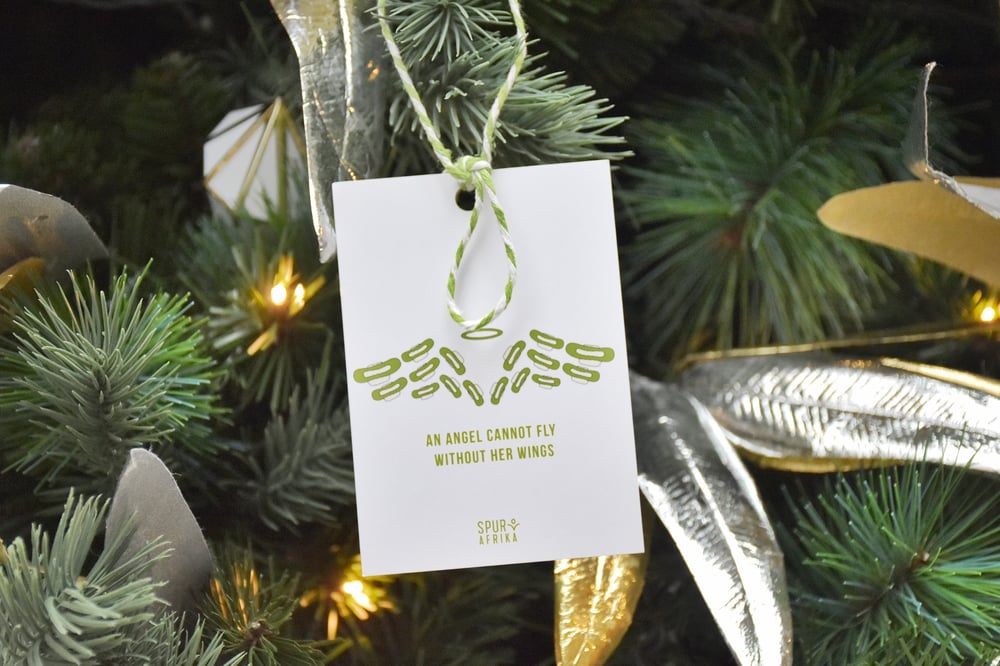 This card is designed as an ornament and provides sanitary products for fifteen girls for a month.
Ornament Card (designed to be hung)
Front: An angel cannot fly without her wings.
BACK: Every so often girls are forced to miss school days due to a lack of sanitary products. By purchasing this card you're allowing Spur to distribute female hygiene products to fifteen girls for up to a month, reducing the amount of school days missed.
Card 2, Postcard (designed to be written on)
FRONT: MERRY CHRISTMAS!
This gift was purchased on your behalf for the children, young adults and workers of Spur Kenya.
Back: Spur Afrika is a not-for-profit organisation that joins communities across Australia and Kenya who work to provide education, health and life skills for children and youth living in poverty-stricken Kibera slums.
PLEASE NOTE: This is a hard copy card and it will be posted to the address provided in your order. Please be aware that delivery times may vary depending on your location and Australia Post. Therefore we are also offering a PDF copy which you can print yourself. This will be e-mailed to you. The e-mail PDF copy will be provided on request. Please indicate this option in the notes section when ordering.
You may choose to pick up from MCBC at Kew on Nov 20th OR you can pick up from a house at Mount Wavelrey - please indicate this option in the comments section if you are choose this method.
Please e-mail [email protected] for more details, comments or questions. We would be delighted to assist you.
Cost: $65 AUD per card*
*donations $2 and over are tax deductible
Please note for PDF orders, there is no delivery fee. Please select everywhere else for PDF option.